The town of Talk Town, 2021 to 2028
— A second exploration of speculative design, feminism, and time traveling.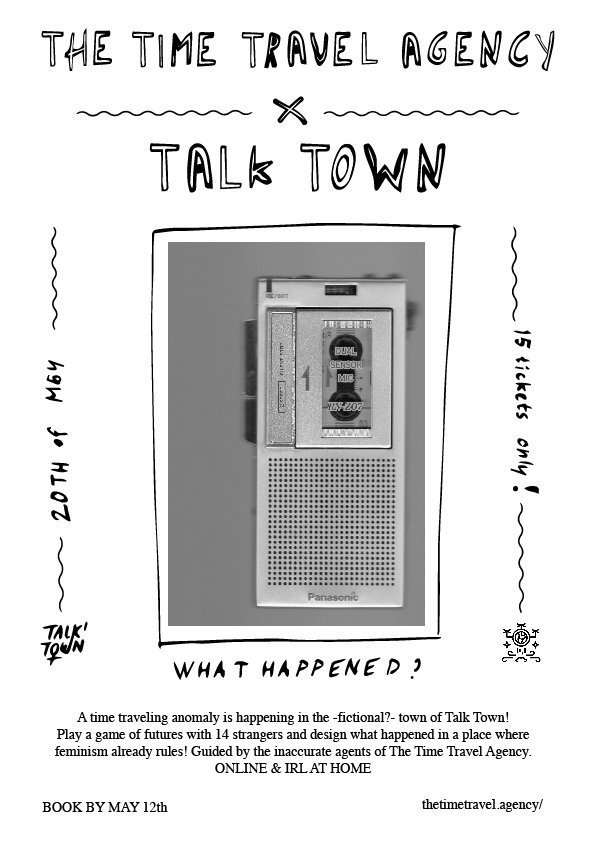 THE FUTURE

Talk Town
is a yearly Danish festival for equality, gender and feminism, and this year, a time traveling anomaly is happening in the – fictional? – town of Talk Town!
The Time Travel Agency invites Talk Towners to play a game of futures!

Through clues and rapid prototyping online and IRL, travelers will design what happened by imagining possible futures of the town of Talk Town.

This travel happens

online

on May 20th 2021 for two hours: 16.30 to 18.30 CEST. Guests will be given Zoom and Miro links.

To play, guests will be asked for an e-mail, and phone number or Telegram/Signal user names.

This time travel uses English language (mostly).

Notice to all travelers:

Please remember this is a beloved game. Travelers must accept via digital messaging two check-in activities 48h prior to travel; the activities are simple and done IRL individually. If you don't think you can commit to them, be kind and let someone else play :)


Talk Town festival's purpose is to create a platform for democratic debate about gender, equality and feminism. Talk Town presents a wide variety of events each year: debates, workshops, talks, films, concerts, theater and art. The festival provides scope for conversations that converge and diverge, for opinions that align and clash, but which all point in the same direction; equality.
The festival is free and open for all.

Read more at www.talktown.dk and follow Talk Town on Instagram: @talktown
Explore the entire program here.

This is an experience designed and delivered by Jocelyn Ibarra & Mida Fiore.