The Time Travel Agency was founded in 2019 and operates with a team of travel agents around the world led by Jocelyn Ibarra.



Jocelyn Ibarra, SWE/US
Jocelyn is the founder and design lead of The Time Travel Agency.

She is an artist and designer interested in sociotechnical artifacts, distributed technologies, interactive fiction, and narrative design.

Jocelyn has in-depth knowledge of co-creative methods, multistakeholder governance, and lean and innovation processes within the creative, coworking, and software industries.
LinkedIn
KATTFANTASTISKT
Jerrold McGrath, CAN
Jerry is a creative producer and currently the program lead for Goethe-Institut Toronto's Algorithmic Culture series.

His practice focuses on how we are organized by the world and how we might introduce a bit of disorder so that new things can happen. He is a BMW Foundation Responsible Leader and a former Program Director at the Banff Centre for Arts and Creativity. He currently leads UKAI Projects in Canada.


LinkedIn
UKAI
Sofia Ivarsson, DK
Sofia is an artist and lighting designer fascinated by the future and how we together produce, shape and take responsibility for it.

She is a graduate from Kolding School of Design and has experience from theatre productions and curation of light art festivals to the development of large scale art installations.
From 2019-2020 Sofia led The Time Travel Agency with Jocelyn.

LinkedIn
NOGA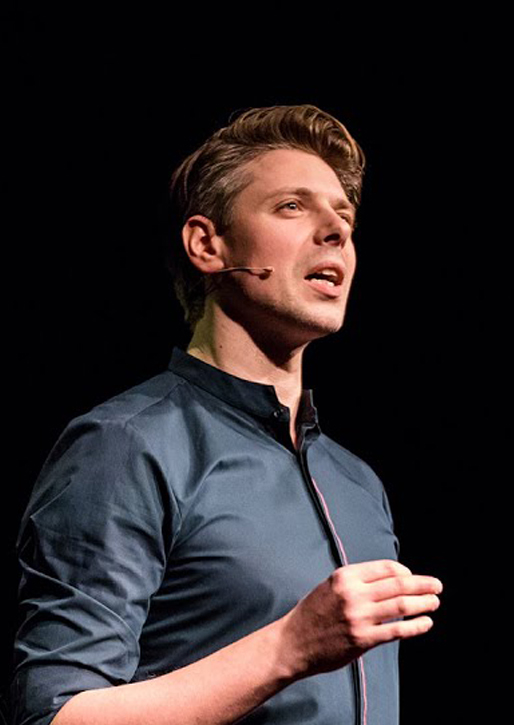 Denis Rivin, DK
Denis is a futurist, art historian, critical optimist and firm believer in humanity's ability to reinvent itself.


Denis is a communicator of human progress, associate partner in DareDisrupt, and author of the world's first kid's book on the subject of technological unemployment.

LinkedIn
#ActualNews
Jenn Leung, HK/UK

Jenn is a 3D artist and interaction designer. She is a postgraduate researcher in the Interactive Architecture Lab at the Bartlett School of Architecture, University College London.

Jenn spends most of her time hermitting with two laptops and organizing offsite exhibitions with different underground art networks like corpsesimulacrum.

@jennnital

Site
Vimeo
Matthew Talbert PhD, SWE/US
Matt is a philosopher working in ethics, moral psychology, and philosophy of agency.


His research focuses on free will and moral responsibility.
He is interested in artificial intelligence and the degree in which AI can be autonomous, conscious, or free.
Lund University
PhilPeople
Bianca Li Channer, CAN/US

Bianca is a multi-disciplinary designer and strategist working at the intersections of music, brand, venture and social equity.

Powered by a dedication of co-designing spaces, products and systems that empower vulnerable communities to design their own futures — her work has been recognized by girlboss, ELLE Canada, CBC and Toronto Star.

www.biancalichanner.com
Mida Fiore, IT
Mida is an artist and a designer who works on creating narrations through artifacts and installation.
She is co-designer of time travel experiences.

She is interested in designing narrative experiences that can enhance ideas and imagination.
Her experience ranges from contemporary art exhibitions and editorial projects to participatory theater.

LinkedIn
Johanne Ib, DK
Johanne is a concept, food and graphic designer who works with immersive investigations of food and its potential to create and shape social spaces and bonds between people.


Johanne is a graduate from Kolding School of Design's program Design for People.
www.johanneib.com
Louise Hou Bøgeskov, DK
Louise has founded LULU—LAND, a tiny global community for those who thrive with fluid boundaries and whose restlessness, curiosity and creative mindset are their greatest strength.


Louise strongly believes that creativity in all aspects of life and business is a prerequisite for success in an increasingly global, turbulent, and fast-changing world.

www.lululand.io
Clara Llongarriu, ESP

Clara is a teampreneur and innovation facilitator with the mission of contributing every day to a more just, coherent, and consistent ecosystem.


Clara believes that through art and design we can create experiential and interactive lapses of time and space that lead to reflection and mindful action.
She is a co-designer of our storyworld.

@clarallongarriu
Mathilde Thorup, DK
Mathilde is a MA student in Visual Communication at The Royal Danish Academy of Design.

Mathilde works with illustration and speculative design projects and is a highly skilled visual storyteller. Her main inspiration comes from nature and personal stories from people around her.

@thorupmathilde
Some organizations we have had the pleasure to work with

Exhibitions & Publications


Presenting our method for Speculative Futures Madrid with Tipi (Madrid, Bilbao) (2021)


The Algorithm of Donated Dreams in Electronic Literature Organization Conference: Platform (Post?) Pandemic (link to exhibition; link to work) (2021)


The Time Travel Agency in Experimental Realism's global index of speculative design practitioners, Experimental Realism (2021)


The Algorithm of Donated Dreams in Homeostasis Lab (2021)


The Laboratory of Optimistic Futures in Stories to Change the World, International Activist Collections (2021)


The City of Remote Work part of the NNN New Not Normal Residency at UKAI Projects (2020)


The Algorithm of Donated Dreams in Backslash Lit issue #1 (2020)


The Algorithm of Donated Dreams in Taper #4 : A New Trope (2020)


INTERFACE art exhibition for the Year of the DAOs, Osaka, Japan (2019)


Reshaping Work Regional Event: Conference on the Future of Work, Barcelona, Spain (2019)


Before Shine, curated for Litteraturrundan Skåne, Vollsjö, Sweden (2019)



The Time Travel Agency was born as PERSONA in 2019 from an idea by Jocelyn Ibarra & Sofia Ivarsson.